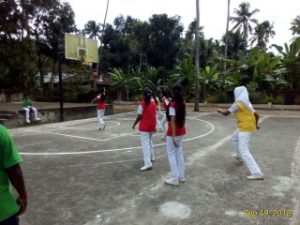 One of the most attractive features of the Lake Mount Public School is its huge multipurpose playground.In a pollution free lush green environment, this play ground becomes the most attractive platform for the physical, mental and spiritual growth of the children. The school gives special training in Atheletics, Football, Badminton, Basket Ball, Volley Ball and Kho Kho. Students have the freedom to choose their favourite sports activity and to get trained well in that particular item under the guidance of able and experienced hands.
The Play ground has witnessed the very popular Inter-School Foot-Ball tournament conducted in memory of Prof.Ravindra Nath Panicker, the Founder of the Lake Mount Public School.
The playground also becomes the most lively platform during the Annual Sports day, Independence Day and the Annual Day celebrations in addition to the regular Mass Drill and Physical Education classes.